RSHE Consultation Feedback
RSHE Consultation Feedback
8 September 2021 (by Jodie Binch (Jbinch))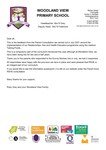 Dear all,
This is the feedback from the Parent Consultation we carried out in July 2021 around the implementation of our Relationships, Sex and Health Education programme using the medium Talking Points.
This is a compulsory part of the curriculum introduced this year although at Woodland View, we have been doing this for two and a half years.
Thank you to the parents who responded to the Survey Monkey link in July, we had 2 responses.
All respondees were happy with the provision we have in place and were pleased that RSHE is an integral part of our curriculum.
If you would like to see the information powerpoint, it is still on our website under the Parent Zone RSHE consultation.
Many thanks for your support,
Ruby Grey and your Woodland View Family.