Parents' Evening
Parents' Evening
10 January 2022 (by Jodie Binch (Jbinch))
Teams Parents' Evening Tuesday, 25th January 2022 Thursday, 27th January 2022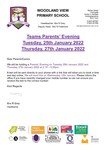 Dear Parents/Carers
We will be holding a Parents' Evening on Tuesday 25th January 2022 and
Thursday, 27th January 2022 at 3.15 – 5.25pm.
A text will be sent directly to your phone with a link that will allow you to book a time and day online.
We will send this on Wednesday 12th January.
Please inform the office if you have recently changed your mobile number so we can ensure you receive the text to the correct number.
Kind Regards
Mrs R Grey
Headteacher