KS1 Nativity
KS1 Nativity
19 November 2021 (by Jodie Binch (Jbinch))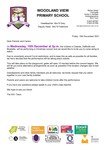 Friday, 19th November 2021
Dear Parents and Carers,
On Wednesday, 15th December at 2p.m. the children in Daisies, Daffodils and Bluebells will be performing a Christmas concert and we would like to invite you to come along to watch.
Due to uncertainly around Covid restrictions, and to keep this as safe as possible for all families, we have decided that the performance will be taking place outside.
This will take place on the playground; gates will open 10 minutes before the concert begins. We will let you know alternative arrangements as soon as possible if the location changes due to bad weather.
Grandparents and other family members are all welcome; we kindly request that you stand together in your own family bubbles.
Parents and carers are welcome to take children home after the performance.
If you have any questions please speak to your child's class teacher.
We hope to see you there!
The KS1 Team