Phonecalls
Phonecalls
15 November 2021 (by Jodie Binch (Jbinch))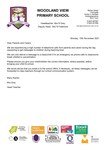 Monday, 15th November 2021
Dear Parents and Carers,

We are experiencing a high number of telephone calls from parents and carers during the day, requesting to get messages to children during teaching time.

We can only deliver a message to a class/child if it's an emergency as phone calls to classrooms break children's concentration.
Please ensure you give your child/children the correct information, where possible, before bringing your child to school.

We would advise that you email in to the school office, if necessary, as these messages can be forwarded to class teachers through our school communication system.


Many thanks

Mrs Grey
Head Teacher