Whole School Pantomime Trip
Whole School Pantomime Trip
15 November 2021 (by Jodie Binch (Jbinch))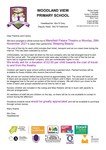 Dear Parents and Carers,

We have arranged a whole school trip to Mansfield Palace Theatre on Monday, 29th
November 2021 to watch their pantomime 'Sleeping Beauty'.

The cost of the trip for each child includes their ticket, transport and an ice cream treat during the interval. This has been subsided by school.

Unfortunately, we have been let down by the bus company who we had arranged travel to and from the venue with. The original travel costs were also included in the cost of the trip but we have had to organise another company, who are considerably higher in cost.
We kindly ask for a donation of £2.50 per child towards the cost of travel to and from the theatre.
Children will need to wear school uniform and bring a packed lunch. Packed lunches will be available for those children who receive free school meals.

We will eat our lunches before leaving school at approximately 1pm. The show will finish at 4.30pm and we expect to return to school from 5.00pm until 5.30pm. Arrivals back to school will be staggered due to the pick up system of the travel company. We will inform you closer to the times of each year groups expected arrival time by text or app.
Nursery children are included in the outing and Miss Roberts will be in touch with parents to discuss arrangements.

All members of staff will join children on the day, so there will be no one available to contact in school during the afternoon.
Donations towards travel would be greatly appreciated and will be available to purchase through school money.
Many thanks

Mrs Grey
Headteacher